Dear Friends, Family & Co-Workers,
Thank you for making this a great summer at Thai Rock. The addition of water sports added an exciting and unpredictable dynamic and brought so many new people here. I really had a great time on and off the water meeting, speaking, helping and sharing experiences with you. Most of all, what made this summer the best summer ever for me was having my kids here, working, playing and enjoying each other every day – I am proud of you guys, you all blossomed to young adults before my eyes, a truly moving experience. Thank you to all our customers for your patronage and your friendship.
We will be open all winter with a live music schedule Friday through Monday and the return of Karaoke Thursday nights along with special shows here and there.
Thank you to our staff, you are awesome, Geoff Rawling – resident artist, our suppliers, my wife Metta for whom without none of this would be possible and a long list of other people that all take part in making Thai Rock operate.

Original Night returns Friday's and we are actively seeking bands. If you are interested in performing here at Thai Rock on a Friday Night, please contact us at bookings@thairock.us.
Music Calendar
Friday Sep 7th :30pm
Steel Horse
CLASSIC ROCK with EDGE
*** Plus ***
Kim's Birthday
Partay Rock Experience!
Playing the best of Zep, Floyd, Stones, STP, Foo Fighters, Petty, Beatles, Eagles...

"really like this band; best led zep set you are going to see... Kim really nails it. not just classic rock, it's classic rock with edge, so not just the typical blues rock nonsense--really enjoyable night courtesy of steel horse, thanks guys (and girl)."
Saturday Sep 8th 9:30pm
The Naturalistic
A night of live energetic Soca and Reggie sure to get you on your feet and having fun.

Prince will teach you his own group dance - "1 cent, 5 cents, 10 cents, 1 dollar"
Sunday Sep 9th 6:30pm
Comfort Music Sunday's
Alive N Kickin Duo
For over 40 years Alive N Kickin' has been entertaining fans. Their hit single Tighter & Tighter put them in the spotlight, but their unrivaled repertoire, level of performance, and musicianship has kept them there all of these years.
Mon Sep 10th 9pm
Open Mic Monday's

Hosted by
Taylor Searing
You never know who's gonna show up

"eXtreme" Jet Ski Tours
The summer is not over and to end it with a splash, we are offering "extreme" Jet Ski tours. These are 3-4 hour tours that include lunch and will take you to New York Harbor, around the Statue of Liberty, to New Jersey or across the ocean and into Long Beach & Jones Beach all on a Jet Ski starting and ending at Thai Rock. You must be in good physical condition and be very comfortable in the water and riding a Jet Ski. The cost ranges between $200 and $250 per person depending on where we eat.
Please call us at (646) 350-4802 for more information. Availability is very limited.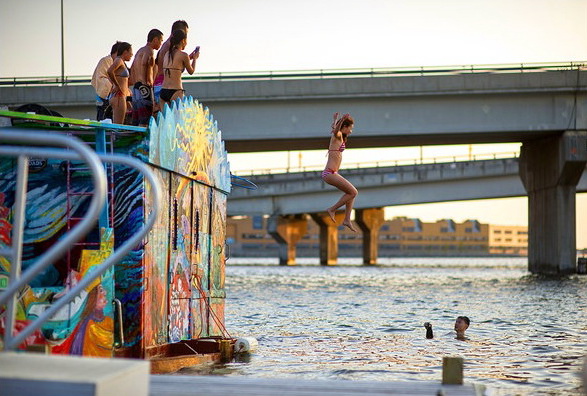 Thursday September 20th, my dear friend Virgil Alderson will be having a premier of a new artwork he created at Church of St. Paul the Apostle.
Let me know if you are interested in attending. I plan on going to this event as well. Click here for more information
Free Valet Parking for our Customers
Fri, Sat & Sun
Discounted Gift Cards Available At
We are pleased to announce a partnership with Costco to provide discount gift cards to Thai Rock.
Available at the Lawrence store, in the center isle, you may purchase $100 worth of gift cards for only $79.99.
These cards have no restrictions and no expiration and may be used for all Thai Rock services including dining in, to go and delivery.
Supply is limited